wamp- Could not execute menu item (internal error): The service has not been started
---
Sometime wamp server display the message in a popup window that "Could not execute menu item (internal error)[Exception] Could not perform service action: The service has not been started."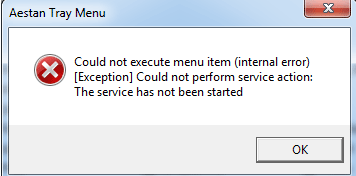 You can fix it by following these ways…
1. Change start type
Press Windows+R
Enter services.msc and click the OK
Locate service with name wampapache
Right click on wampapache, and, wampmysqld. Click on the properties
Change Start Type to Manual or Automatic
Start the service
P.S Change start type works for me.
2. Start the service
Sometime wamp server services have been stopped by Windows.
Press Windows+R
Enter services.msc and click on OK
Locate service with name wampapache
And check if its status is Running. In case not, right click » start.
3. Change the port
By default, wamp server will take the PORT 80. If PORT 80 uses by some other application it will not start. To change the wamp server port.
Click on the wamp server tray icon.
Go to the Apache.
Select http.conf and click on it. It will open in a notepad editor.
Scroll down and you will see the port number that WAMP server takes.
Change that port number to:
#Listen x.x.x.x:8099
Listen 8099
Save that files and restart the services.
Check by typing localhost:8099 in your browser.
We hope one of the above can resolve your wamp server problem.
---
Similar Posts
About the Author