iText API- Add Bullets in Unordered List PDF using Java
---
In the previous iText tutorials, you have seen how to add ORDERED and UNORDERED list in the PDF document. While creating the UNORDERED list you have noticed that there is DASH (-) that indicates all the list data.
But in this example, we will add the BULLETS instead of DASH to indicate the UNORDERED list data. List class has a method setListSymbol() for setting the symbol of the UNORDERED list.
Similar Post: iText API- Ordered and Unordered List Example in Java
Steps to add bullets in Unordered List
Using Chunk and Font class you have control of width and height of bullets.
Font zapfdingbats = new Font();
Chunk bullet = new Chunk("\u2022", zapfdingbats);
list.setListSymbol(bullet);
Or directly use Unicode of a bullet.
list.setListSymbol("\u2022");
Or paste the bullets.
list.setListSymbol("•");
Check the Full Example
BulletedUnorderedListExample.java
package org.websparrow.itext;

import java.io.FileNotFoundException;
import java.io.FileOutputStream;

import com.itextpdf.text.Chunk;
import com.itextpdf.text.Document;
import com.itextpdf.text.DocumentException;
import com.itextpdf.text.Font;
import com.itextpdf.text.List;
import com.itextpdf.text.ListItem;
import com.itextpdf.text.Paragraph;
import com.itextpdf.text.pdf.PdfWriter;

public class BulletedUnorderedListExample {
	public static void main(String[] args) throws FileNotFoundException, DocumentException {

		Document document = new Document();
		PdfWriter.getInstance(document, new FileOutputStream("iText/bulleted-unorderedlist.pdf"));
		document.open();

		Paragraph paragraph = new Paragraph("Unordered list has been created - WebSparrow.org\n");
		document.add(paragraph);

		Font zapfdingbats = new Font();
		Chunk bullet = new Chunk("\u2022", zapfdingbats);

		List list = new List(List.UNORDERED);

		list.setListSymbol(bullet);

		list.add(new ListItem("Apple"));
		list.add(new ListItem("Google"));
		list.add(new ListItem("Microsoft"));
		list.add(new ListItem("Facebook"));

		document.add(list);
		document.close();

		System.out.println("List Created Successfully...");
	}
}
Output :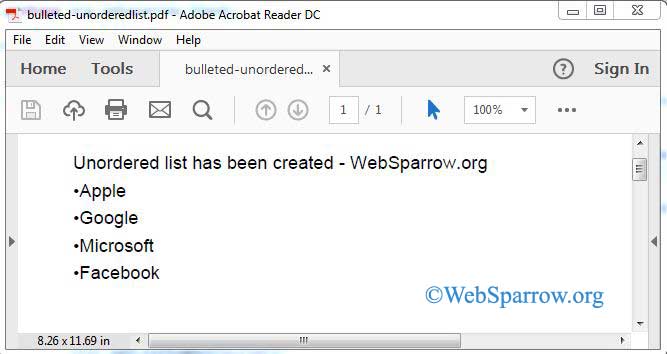 ---
Similar Posts
About the Author